Your business most likely receives and sends PDFs every day, whether that's invoices, contracts, etc. But important business data is often locked within PDF files, meaning you can't edit it or move it to your database. So instead of inputting that data manually, it's much better to use a tool that can accurately extract data from PDFs. However, there are many PDF converters out there and it's not always easy to find the right one. If you are tired of trying PDF converters that don't do a great job, we suggest you try Docparser, the document parsing solution that you can use as a free PDF converter to convert PDFs in bulk and move data where it needs to be. This post will show you how to create a PDF converter tailored to your needs with Docparser and why it's a better alternative to other converters.
Try Our Free PDF Converter
Save time and money by automating data entry. 
What is Docparser?
Docparser is a web-based document solution used by hundreds of businesses to automate their data workflows. You can use Docparser to extract information from documents in PDF, Word, or image format.
Docparser uses OCR, advanced pattern recognition, and anchor keywords to identify and extract data like names, dates, phone numbers, text, and tables. By training Docparser to extract the specific data you want (no coding involved), you can create a free PDF converter that saves you hours of manual data entry and boosts your productivity.
How to Create Your Free PDF Converter with Docparser
Step 1: Create a Document Parser
Start by signing up for a free trial. You will be directed to your Docparser dashboard where you can choose the type of document you want to parse. There are many options available, from invoices to delivery orders, contracts, etc. In case your PDF doesn't fall into any of the categories suggested, choose 'Custom Template'.
Step 2: Upload a few sample documents
Docparser needs at least one sample document to build your free PDF converter app. You can upload your sample PDFs in a variety of ways:
Drag and drop your files

Upload form your local disk

Connect a storage provider like

Google Drive

or

DropBox

Send your files as

email attachments

to your Docparser email address

Use our REST API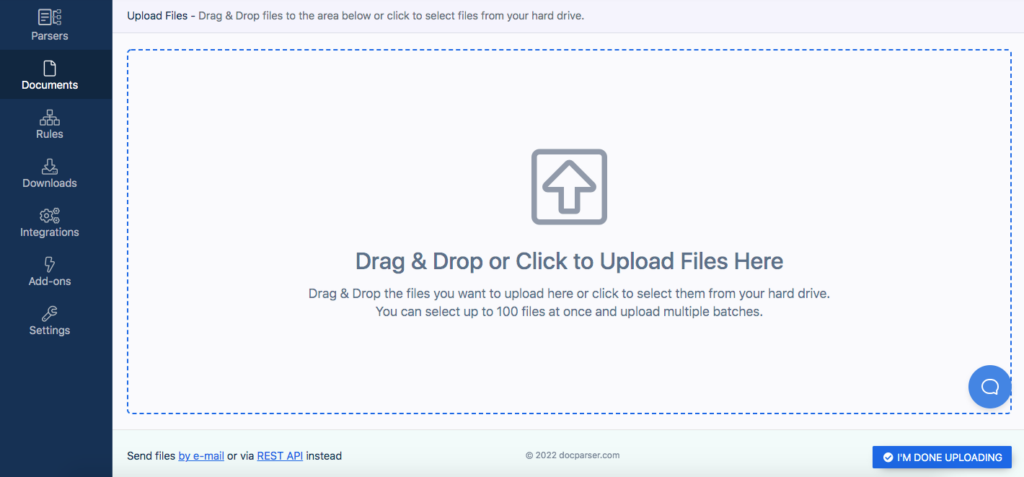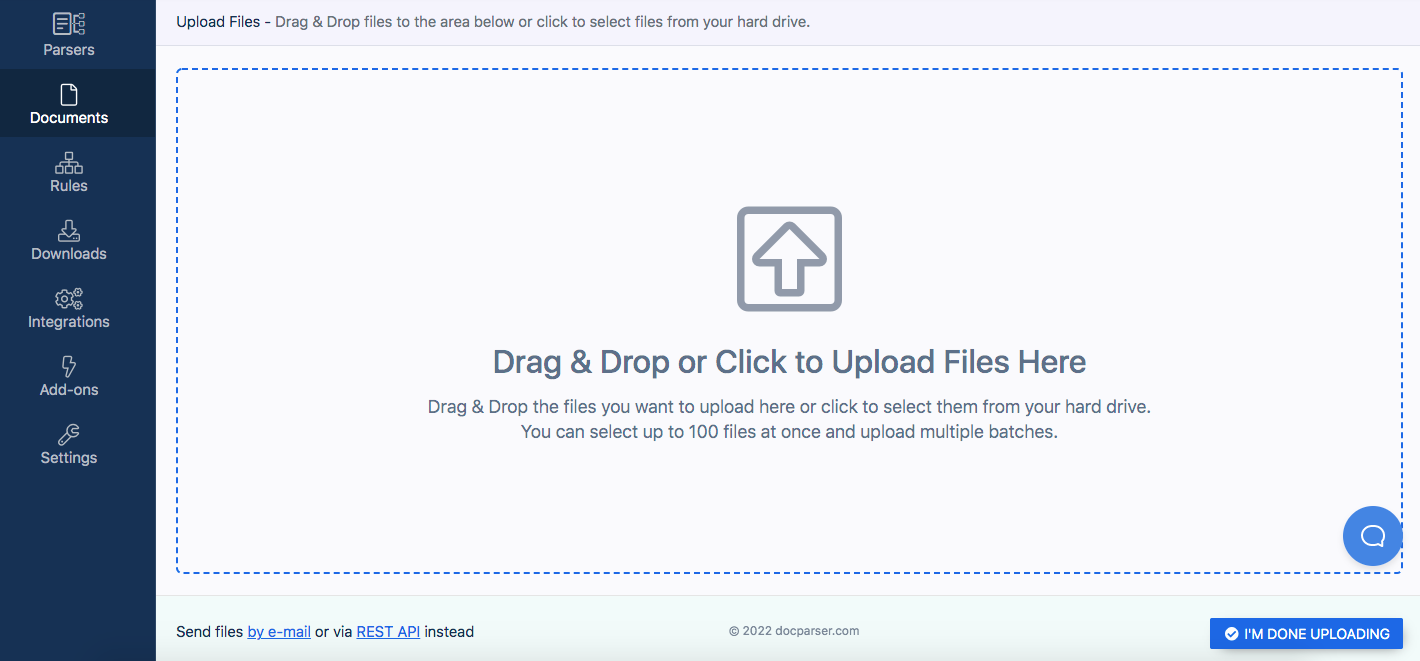 Once your files are uploaded, click on 'I'm Done Uploading' and type a name for your PDF parser.
Step 3: Create Parsing Rules
It's time to create some Parsing Rules, which are the instructions that Docparser follows to find and extract each of the data fields you want. Don't worry; this is quite easy, as you're about to see.
On the left-hand side panel, go to 'Rules' and click on the button 'Create First Parsing Rule'.
You will enter the Parsing Rule editor where you can choose from a variety of General Rules for different types of data points like a person's name, a date, a table, text, etc. Select the Rule that corresponds to the first data point you want to extract.
Draw a square around the approximate position of the data point you want, then click on 'Confirm'.
The editor will show you a preview of the parsed data in text format so you can verify whether it was correctly extracted. If not, add a text filter to improve the parsing results. You can chain up text filters to get the data extracted exactly how you want it.
Once you're done, click on 'Save Parsing Rule'. In the dialog box that pops up afterward, click on 'Add New Rule' to add a second Parsing Rule.
Repeat the same process and create as many Parsing Rules as needed until your Parser can extract all of the data you need.
Be sure to explore our knowledge base to learn more about how to use Docparser. If you get stuck, don't hesitate to contact our customer happiness team.
Step 4: Download or send your data
Lastly, choose where you want your parsed data to go.
For starters, you can download parsed data in Excel, CSV, JSON, and XML format.
To do that, choose the format you want, type a name on your file, and click on 'Save'. Docparser will then instantly generate a download link.
You might find it more interesting to set up an outbound integration with a cloud application that you use, so that parsed data is automatically sent to your desired location on that app.
We offer multiple integration options:
Choose the option you want and follow the simple instructions provided. Note that you can define the range of parsed documents to send (e.g. files uploaded today, last 100 files, etc.).
Automate Your PDF Extraction Workflow with Docparser
Save time and money by automating data entry. 
Why Use Docparser as My Free PDF Converter?
Build your no-code custom PDF converter 
With other free PDF converters, you don't have a say in what the extracted data will look like. You just upload your PDF and hope for the best. Any inaccuracies or errors after the conversion will have to be edited manually. If you have a huge document, or a large number of documents, the editing process could become very time-consuming and excruciating. Or worse, depending on how urgently you need the data in editable format, manual data entry and editing might not be possible at all.
With Docparser, however, you build your custom PDF converter so that, once it's set up, you will get your data cleaned and structured just like you want it to be. As you build your converter, you select each data field from your document by drawing a rectangle around it. Plus, you verify and improve the extraction result until it's perfect. The best part? You don't need to write a single line of code. Anyone can use Docparser to build their tailored PDF converter in minutes.

Convert documents in batches
Most free PDF converters put a limit on how many documents you are allowed to convert at the same time or per day. And even if you upgrade to a paid plan, you are still stuck with the inability to customize your converter according to your needs.
If processing PDFs is an important part of your or your team's day-to-day responsibilities, you need an online PDF converter that can process multiple documents of the same type simultaneously. Docparser does just that.
Convert PDFs of scanned documents
There are two types of PDFs: electronic documents and scanned documents. While the former may allow you to copy and paste information, this is not the case with the latter. If you regularly receive PDFs that were paper documents originally, you probably won't be able to search for, copy, or edit the data trapped within them.
Docparser solves this by making use of its OCR engine (short for Optical Character Recognition) to extract data from scanned documents—in both PDF and image formats—and convert it to machine-readable text. You can extract the entire contents of a scanned document as well as specific data fields thanks to Zonal OCR.
Convert to multiple formats
For starters, you can convert a PDF to Excel, CSV, JSON, and XML.
Additionally, Docparser can convert from PDF to Word, Word to Excel, and from a scanned image to Excel. These conversion options cover a wide range of data extraction needs, and chances are there is more than one workflow that you automate with Docparser.
Send your data to a cloud application
Here is what could be a true game-changer for all your document-based workflows: the ability to connect Docparser to a cloud app and have your extracted data automatically sent there. No need to share parsed documents via multiple channels or upload them manually.
Unlike other PDF converters, which convert documents to downloadable files only, you can integrate Docparser with thousands of cloud apps via our integration partners, including the popular platform Zapier. This makes it very easy to move your data to your accounting system, CRM, ERP, and any other cloud app used by your company.
Once you try Docparser, chances are it will become an essential app in your cloud stack.
Save time and money
Efficiency plays a major role in how competitive you are in your industry. Being able to process PDFs in batches and send accurate data where it needs to go means you and your team will free up a lot of time every day while cutting down the costs of data entry. Eliminating the need for such a tedious task improves the morale of employees and gives them more time for tasks that are more rewarding to perform and more profitable for the company.
Another benefit of using Docparser is that, by building a tailored document converter, you eliminate the risk of human error, which can cost a lot of time and money to fix. So you get more reliable data at a lower cost.
Automate Your PDF Extraction Workflow with Docparser
Save time and money by automating data entry. 
Docparser Use Case
To give you a clearer idea of how businesses use Docparser to capture and move data, here is one use case of converting PDFs into data which is then sent to an ERP system.
"Sistema Plastics is a major manufacturer of plasticware based in New Zealand and exports to countries around the world. We receive some of our purchase orders from customers in a variety of PDF formats and these can be very long and complex to process. We used to have to manually rekey this information from PDFs into Excel for review and importing to our ERP system. Since implementing Docparser we have been able to set up rules for each customer that quickly extract the order details into Excel in a useful format. Docparser has been invaluable and has reduced processing time of some orders from many hours down to minutes. By removing rekeying we have also increased order accuracy and reduced errors. There are other extraction tools available online, but what made Docparser stand out to us was the wide range of extraction rules available to cope with even the most complicated PDF formats." 
Chris – SistemaPlastics.com
Frequently Asked Questions
How long does it take to convert a PDF to data?
It usually takes only a few moments to parse a document. Keep in mind that the parsing speed depends on the size of your PDF and the speed of your internet connection.
What is the maximum file size for uploading documents?
The maximum file size is 20 MB. For best results, we recommend that your files don't exceed 8 MB in size. We can increase the maximum file size for customers on higher subscription plans.
Is there a page count limit?
Docparser works best for documents of 1 to 10 pages. Scanned documents that go through our OCR engine have a limit of 30 pages. If your document has 30 pages or more, we recommend that you split it into separate files by using Adobe's online splitting tool.
Is Docparser secure?
Yes. At Docparser, we take security and data privacy very seriously. Your data belongs to you and we will never share or sell your data to third parties. For more details, please read our data security policy.
Is Docparser free?
You can create a free account and use Docparser for free to parse 30-150 pages per month. Alternatively, you can sign up for a 21-day free trial of one of our paid plans. 
In Conclusion
PDFs are not going anywhere, but the data inside must go where it belongs quickly and easily. To process PDFs efficiently, businesses are turning to PDF converters with advanced processing capabilities. So if you have been looking for a no-code solution that allows you to convert PDFs in batches and move the extracted data to a cloud app used by your company, look no further than Docparser.
Use Docparser to build your no-code free PDF converter. Sign up for a free trial today and see first-hand how much your productivity will grow.
Convert PDFs to Word with Docparser in Minutes
Save time and money by automating data entry.