Accounts payable teams often struggle with invoice processing—an essential step in the invoice approval process. The more invoices there are, then the longer it takes to input data into your system. It also doesn't help that manual data entry is error-prone by nature, so incorrect data will definitely fall through the cracks. The solution then is to not to hire more people or outsource data entry, but to invest in invoice data extraction. Doing this will take a huge load off the shoulders of your AP and massively cut down invoice processing costs. In this blog post, you are going to learn how to extract data from invoices to skyrocket your productivity by using Docparser, the leading solution for automating data entry.
Get Started with Invoice Data Extraction
Extract data from batches of invoices in minutes. Automate your invoice processing, save costs, and skyrocket your productivity.
What is Invoice Data Extraction?
Accounts Payable teams typically need to enter the following data into their database:
Title

Invoice number

Purchase order number

Your company's name and contact information

Vendor name and contact information

Date of transaction

Description and pricing of the goods or services supplied

Total payable amount

Payment terms
It's essential to enter all of this data without errors into your company's AP system. However, doing this manually can give rise to a number of problems.
The problems of manual invoice processing
In past decades, businesses would typically process invoices manually. This traditional method—which is still widely used today—leads to many issues, such as:
Manual data entry is very time-consuming;

Data entry errors that cause matching errors, double payments, etc.;

Delays in payment due to lengthy approval cycles and missing paper invoices;

Internal fraud and phishing scams;

Damaged relationships with suppliers.
Overcoming these issues is a tall order, especially for organizations that need to process large numbers of invoices daily. Thankfully, data extraction technologies have come a long way to ease this pain.
Enter invoice data extraction
With the advent of no-code data extraction tools, it makes little sense to keep processing documents manually. Invoice data extraction in particular is a game-changer for AP teams.
Invoice data extraction is the process of extracting data from invoices. Instead of typing or copying and pasting data by yourself, you use a software tool that pulls data from invoices according to specific instructions that you set beforehand. In other words, you automate the data entry process, which benefits you in many ways:
Lower the amount of time needed to process invoices from hours to minutes;

Prevent human error, therefore improving data accuracy;

Relieve employees from the tedium and stress of manual data entry, and enable them to focus their time on tasks that are more rewarding and impactful.
If this sounds like a solution to your data entry struggles, you can start extracting data from invoices today with Docparser. Docparser is a web-based data extraction solution built for the modern cloud stack. By using it, you can extract data from batches of documents with complete accuracy and skyrocket your productivity.
Get Started with Invoice Data Extraction
Extract data from batches of invoices in minutes. Automate your invoice processing, save costs, and skyrocket your productivity.
How to Use Docparser for Invoice Data Extraction
Follow these five simple steps to extract data from invoices with Docparser.
Note: even if you receive paper invoices, Docparser can still extract data from them once scanned, thanks to its OCR engine.
1. Create your account
You can start using Docparser for free by signing up for either a free account or a 21-day free trial of one of our paid plans. In either case, you don't need to enter your credit card information.
2. Create an Invoice Parser
In the next screen, you can see a number of pre-set templates for common types of documents. Select 'Invoices' and type a name for your Document Parsers (e.g. Invoice Parser). Next, click on 'Continue'.
3. Upload sample invoices
Upload at least one invoice from your hard drive to Docparser. The supported formats are PDF, Word, and image formats like JPEG, PNG, or TIFF.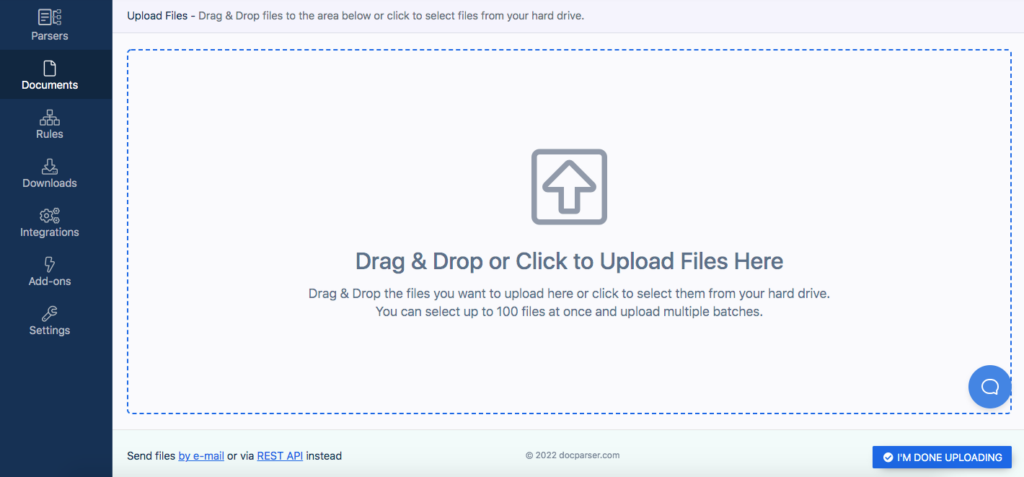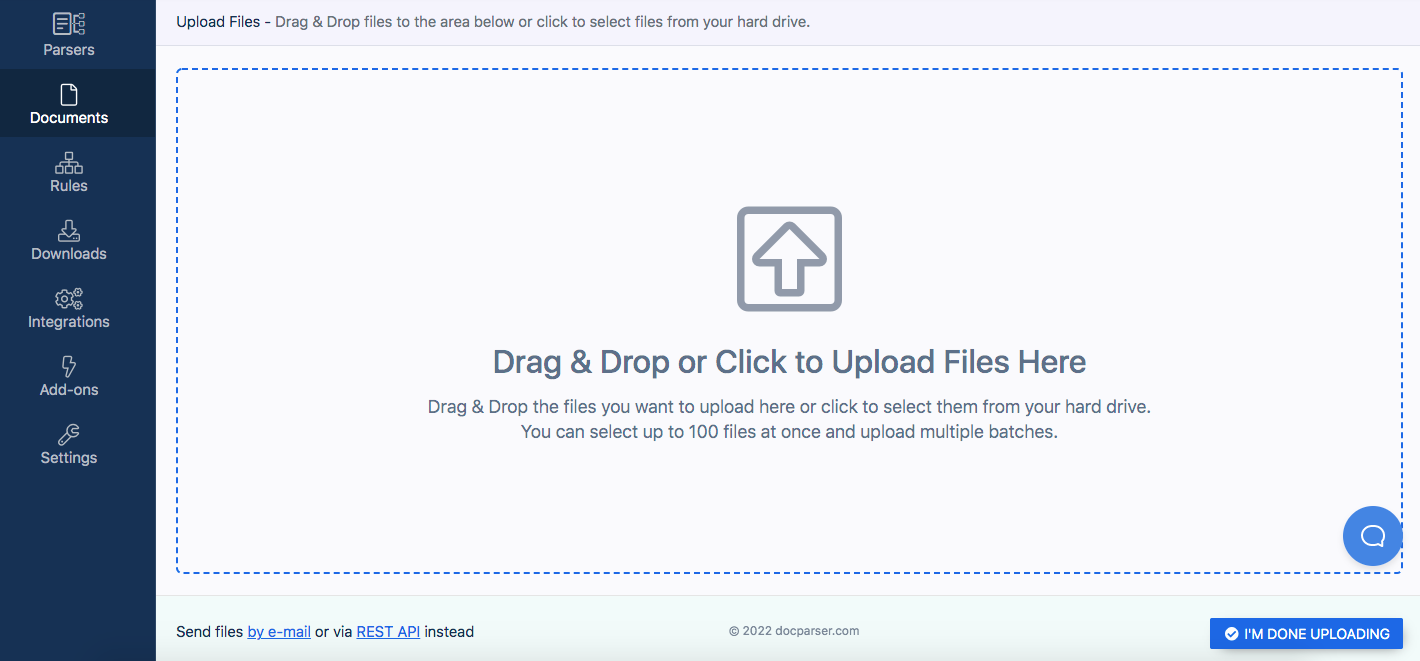 Once you upload your sample invoice, click on 'I'm Done Uploading'. Docparser will take you to the Parsing Rule editor.
4. Create your Parsing Rules 
 It's time to create your Parsing Rules, which are the instructions Docparser follows to identify each data field and extract it exactly how you want it.
The process of creating Parsing Rules is pretty simple. In fact, Docparser will automatically generate a set of Rules, each for a specific data field, as you can see on the left of your screen.
You can edit these Rules as needed, add more, and remove those you don't need.
Let's start with the Rule that extracts the invoice number.
Create a Rule for the invoice number
Select 'Invoice Number'. You will see all the data from the invoice presented as text. You just have to show Docparser where to look for the invoice number. To do that, click on 'Adjust Crop Area'.
The editor will show you the invoice in its original format. Move your cursor to the invoice number, draw a rectangle around it, and click on the green button 'Confirm'.
The Rule editor will show you a preview of the extracted invoice number, which in this case is '100'. This first Rule is complete, so click on 'Save Parsing Rule'.
A prompt will pop up, asking you what you want to do. You want to edit the other pre-set Rules to create, so select 'Stay here'.
 Create a Rule for the invoice date
Click on the 'Invoice Date' Rule from the list on the left of the editor. Scroll down a little bit and you'll see that Docparser has already isolated the line containing the invoice number:
You can change the format of the date if you want. To do this, click on the button 'Add Table Filter', move your cursor to 'Format Cell Content', and select 'Format Dates'.
In the box that appears right below, type the desired date format (for example: m/d/y).
As you can see, Docparser gives you a lot of flexibility regarding how you want data to be structured so that you won't have to edit data after its extraction.
As with the first Rule, click on 'Save Parsing Rule' when you're done and then add a new Rule.
Create Rule for the other data fields
Repeat the same process for the other data fields, namely:
Purchase order number

Vendor's name

Vendor's contact information

Items description

Total payable amount

Payment terms
In the case of item description, this data fields takes the form of a table, so we want to extract it in its entirety. Select the Rule 'Line Items' in the list of Rules on the left side of the editor.
Since this data field is a table, you want to separate the columns in addition to selecting the line item table. In the editor, you will see several red sliders which you can move to specify where each column starts and ends. You can add as many sliders as you need by clicking on either of the red '+' buttons on the sides.
Once you have enough sliders to separate all columns, adjust the borders of the selection box with your mouse to match the table, then click on 'Confirm'. Docparser will extract the item descriptions in tabular format.
So that's how you train Docparser to identify a table and extract it accurately. Keep creating Parsing Rules for the other data fields. When you're done, exit and re-parse your document.
Almost there! You only have one step left to automate the process of extracting data from invoices.
5. Download or export your invoice data
In this final step, you have a choice between downloading your invoice or exporting it to a cloud app via an outbound integration.
a. Download to XLS, CSV, JSON, or XML
The first option is to download your parsed data to Excel, CSV, JSON, or XML.
To do this, click on 'Downloads' in the left-hand side panel and choose the format you want.
Give your file a name and choose the desired range of parsed documents e.g. all files you received last week, or the last 100 files. Click on 'Save' and Docparser will generate your download link.
b. Export to a cloud app
In case you prefer exporting data to a cloud application, like QuickBooks, head to the 'Integrations' section and choose one of the integrations options.
After that, follow the simple instructions provided to connect Docparser to your desired app.
If you want to move parsed data from Docparser to your QuickBooks, follow the steps explained in this page. Basically, you connect your Docparser account to Zapier, create an Action step in Zapier that fetches data from your invoice parser, and then specify the invoice template where you want extracted data to go.
Get Started with Invoice Data Extraction
Extract data from batches of invoices in minutes. Automate your invoice processing, save costs, and skyrocket your productivity.
Why You Should Use Docparser for Invoice Parsing 
1. Skyrocket your productivity
As we mentioned above, when you automate the data entry process, you and your team's productivity will increase by leaps and bounds. Gone are hours upon hours of manual inputting; your invoice data will reach your database much faster and with higher accuracy than before.
As a result, the invoice approval workflow will take less time. Late payments will significantly decrease along with processing mistakes like duplicate payments. Furthermore, employees can dedicate more time to mission-critical tasks, free from the stress of inputting correct data under tight deadlines.
2. Lower the cost of invoice processing
One of the biggest benefits of automation is reducing the amount of paid hours spent on repetitive tasks like data entry. But work hours are not the only cost of manual invoice processing; there are many other costs related to slow communication, paperwork, snail mail, delays, auditing invoices, fraudulent invoices, etc.
Automated data capture, on the other hand, allows data to move freely from invoices to your database, bypassing the manual work that costs you time and money. This results in a decrease of operating costs, therefore improving your cash flow and overall profitability.
3. Improve data quality
By replacing manual invoice processing with automated data capture, there is no room left for human error. Once you properly set up your Parsing Rules, the extracted data will match the data found in your invoices—provided they have the same layout.
So as your overall data quality improves, you will prevent the cost of bad data: the hours spent finding and rectifying errors, the missed early payment discounts, the non-compliance penalties, etc.
Additionally, data is easier to track, as you won't have to search through piles of paper documents. Having accurate data stored in a centralized database helps a lot with financial forecasts, cash flow management, and budgeting.
4. Integrate Docparser with your system
Docparser makes it very easy to move your data seamlessly from invoices into your AP workflow system. You just have to create an outbound integration as shown in the previous section. With our Zapier integration, Docparser can send your parsed data to thousands of cloud apps.
To get a clearer picture of how businesses use Docparser for invoice data extraction, let's take a look at a couple use cases.
Docparser Use Case: Materiales de Fábrica
Materiales de Fábrica is an online store based in Spain that sells construction and decoration materials. This company has automated their invoice organization through a workflow that combines Docparser, Zapier, and Google Drive.
With over 125,000 customers, Materiales de Fábrica always receives a large number of invoices. Alejandro García, Marketing Manager of Materiales de Fábrica, explains how the company uses Docparser to extract data from invoice and send it to Google Drive via Zapier:
"The main use for Docparser is we can forward emails with invoices to different Docparser folders depending on the distributor or manufacturer.

Inside each folder, we design rules to extract the info we need from each invoice. As all invoices from the same manufacturer are the same, just do it once and you have the automation done and you save a lot of hours.

Then with the help of another program, Zapier, we collect the invoices from Docparser and save them with a specific format, taking advantage of the previously parsed info (name, amount, date, order number, invoice number, etc.) and send them to Google Drive.

We are happy with the app and how it is working with us. I recommend it to anyone who wants more order in the bills, emails, etc."
In Conclusion
Modernizing processes is a necessity for any company that wants to thrive in today's world. By automating repetitive tasks, you save time and money, improve your data quality, and become more competitive overall.
Invoice data extraction in particular will massively lower your invoice processing costs and improve employee morale. It will also help you develop better relationships with suppliers since invoices will take less time to get paid.
With Docparser, you can parse not only invoices but any sort of document that you need to process regularly: purchase orders, contracts, forms, etc. So beyond invoice data extraction, you can use Docparser for practically all of your document-based workflows. Try it for free and see how easy yet powerful it is.
Get Started with Invoice Data Extraction
Extract data from batches of invoices in minutes. Automate your invoice processing, save costs, and skyrocket your productivity.