You have a lot of data in your organization, which is growing daily. You need an easy way to access that data when you need it and put it to good use. Data extraction tools are the perfect solution for accessing specific data pieces without manually digging through giant databases or spending hours looking for what you need. These tools make it simple to extract only the information you need while keeping your organizational structure intact, so it's easily accessible later. This blog post will introduce you to the top 10 data extraction tools in 2022 and why they are important for your business.
Extract Data from Documents in Minutes
Struggling with manual data entry? Capture data with Docparser to save time and money.
The Top 10 Data Extraction Tools of 2022
In 2022, businesses will continue to rely on data extraction tools to help them organize their data.
Here are the top 10 data extraction tools for your business to try: 
1.
Docparser
Docparser is a leading no-code data extraction tool that pulls data from documents and sends it where it needs to go using OCR technology. With Docparser, users download parsed data to Microsoft Excel, CSV, JSON, and XML formats and connect it to third-party applications like Zapier.
 Beyond data extraction, Docparser exports it to your database, wherever it is: in a spreadsheet or cloud software. 
Start using Docparser for free by signing up for a 21-day trial. We don't require a credit card upon sign-up, so you won't need to worry about automatic billing. 
With our knowledgeable 24/7 support team, rest assured that your data will be in good hands. 
"The information that I was scraping was very tricky for similar products to scrape accurately. I was very pleased to find out that Docparser gave me the control to scrape my PDFs in unique ways to get as much of the information off as possible. It was easy to use and absolutely perfect for what I needed it for." –Teresa M., Office Manager.
Pricing
Docparser offers a hefty 21-day free trial period, more than any on this list. Its Starter plan starts at $32.50 for the month, including 1200 parsing credits per year. The next step is the Professional plan at only $61.50 per month, including 3000 parsing credits per year. If you're in need of more credits, take a look at the Business and Enterprise plans.
Find out about how Docparser helped Alpine Industries automate their ERP data entry.
2. Mailparser
Docparser's sister company, Mailparser, is an email data extraction tool, allowing you to take data from an email, PDF, DOC, DOCX, XLS, or CSV document using your own parsing rules and automatically import it into a Google Sheet or Excel. Process text sorted inside email attachment and store it as usable data.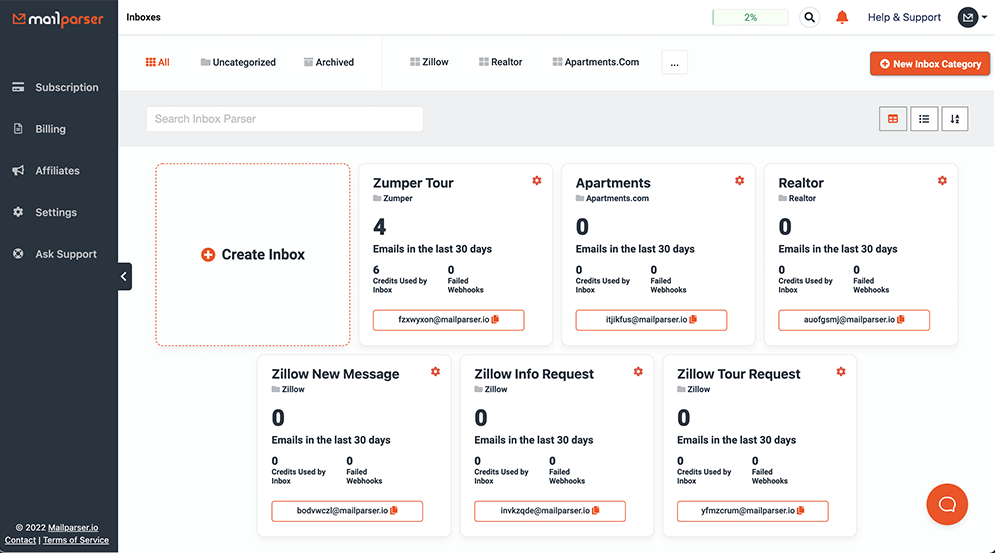 Like Docparser, it offers over 1,500 integrations, including Zapier, so you can extract your data from recurring emails and send it to the app of your choice. 
"I have used it in Zaps to automate lead data entry, solicit customer reviews, and more. I can achieve the automations much more affordably with Mailparser.io than I can with competing single-purpose solutions." –Joel H., Senior Marketing Manager
Pricing
Starting with their free plan, Mailparser offers 30 emails per month and 10 inboxes. If you need additional email parsing, their next plan up offers 6,000 emails per year and 30 inboxes. For heavy usage customers, they offer Business, Premium, and Enterprise-level plans.
Watch this video to learn more about how Mailparser works:
3. Nanonets
Nanonets is another document extraction tool that uses machine learning to recognize handwritten text, text images, images with low resolution, and more. Digitize your important documents, extract data fields, and integrate with your favorite APIs using Nanonets. 
Pricing
Their pricing is vague, with its free plan starting at $0 with only 100 pages and "limited fields." The Pro plan is $499 monthly, which includes processing up to 5,000 pages. 
4. Parseur
Parseur is a cloud-based data entry automation software specialized in document parsing. Like the apps above, it automates your entire data entry workflow by extracting text from documents, emails, and attachments and sending it to a database or application. 
Pricing
Starting with their free plan, Parseur offers you only 20 document credits per month. After this, they offer pay-as-you-grow options, starting at $39/month for 100 credits.
5. Octoparse
Octoparse is another cloud-based web data extraction service. Using a point-and-click interface and no coding, users can scrape data from any website and turn it into a structured spreadsheet. Octoparse only extracts data from websites and not documents like tools like Docparser. 
Pricing
Octoparse offers four pricing tiers, starting with their free plan, their Standard plan at $89/month, the Professional plan at $249/month, and additional Enterprise solutions for those needing additional tasks.
Create Your Own Text Extractor with Docparser
Save time and money by automating data extraction. 
6. Parsehub
Parsehub is a web scraper data extraction tool that allows you to extract data from any website. All users need to do is open a website, click to select data, and download their results through JSON, Excel, and API. Parsehub only extracts data from websites and not documents like tools like Docparser. 
Pricing
Parsehub considers itself a free web scraping service, but there are limits. In the free plan, users can only get up to 200 pages of data. To scrape additional data, users must upgrade to the Standard plan at $189, the Professional plan at $599, or an Enterprise plan. 
7. Web Scraper
Web Scraper is another of the web scraping tools that can extract data from websites with multiple levels of navigation using a modular selector system. Users can export this data in CSV, XLSX, and JSON formats or access it via API, webhooks, or to Dropbox, Google Sheets, or Amazon S3. 
Pricing
Web Scraper offers a limited-feature free browser extension. Its lowest plan is Project which starts at $50/month, then the Professional plan at $100/month, the Business plan at $200/month, and the Scale plan at $300/month.
8. Mozenda
Mozenda is a cloud-based web scraping service allowing you to pull information from web pages. Users can extract data from website text, files, images, and PDF content with their point-and-click feature. Then, users can export directly to TSV, CSV, XML, XLSX, or JSON through their API. 
Pricing
Mozenda offers four plans: Trial, Standard, Corporate, and Enterprise. Companies can choose a plan based on how many concurrent processes they need and how many pages they need to be extracted per month. 
9. Rossum
Rossum is an OCR document processing platform that helps businesses extract structured and semi-structured data from multiple documents. Users can download PDF or other scanned documents, extract the data, and export it to various formats. 
Pricing
Rossum withholds their pricing structure from customers. Their pricing depends on two factors: 1) the volume of documents a business needs processing and 2) the types of features businesses require. 
10. Docsumo
Docsumo uses intelligent document processing technology to convert unstructured data from CSV, JSON, and XML to software like QuickBooks, Xero, and Tally. Docsumo helps businesses of all sizes extract data from documents.

Pricing
Docsumo offers a pay-as-you-go model but offers three tiers of plans: the Growth plan for $500+, and Business and Enterprise plans for businesses that need multiple document types and custom workflows.
What is Data Extraction?
Data extraction is the process of extracting data from an existing database or another source, such as a spreadsheet or text file. Business analysts can use data extraction to create reports, help business owners understand their data, and anyone needing to extract data from a document.
Data extraction is the first step in the Extract, Transform, and Load (ETL) process. It's recommended to have a tool that can extract data from multiple sources as it's a complex and time-consuming process.
Types of Data Structures in Data Extraction
There are three types of data structures in data extraction:
Unstructured
Structured
Semi-structured
Unstructured
Unstructured data is data in its rawest form. It's difficult to process because it has a complex arrangement and format.
Unstructured data can be anything that doesn't have a specific format, like a paragraph in a book, a web page, or log files. Social media comments and posts are also examples are unstructured data.
Structured
Structured data is data that has been formatted and transformed into a well-defined data model. SQL relational databases are the best examples of structured data sets.
Humans and robots alike generate structured data. Some additional examples include point of sale (POS) data like barcodes and weblog statistics, and any data in a spreadsheet.
Semi-structured data
Sometimes data sets aren't structured or unstructured; semi-structured data is in-between. It's a data type with consistent and definite characteristics but doesn't follow a structure like other data.
For example, if you take an image with a smartphone, there will be some structured data elements like the geotag, device ID, and time stamp. After your phone stores your image, you can assign tags like "Mexico" and "sun" to provide additional structure.
How Data Extraction Software Works
Data extraction tools like Docparser convert semi-structured text documents into structured data that your business can later analyze. 
Here's the thing. PDF documents are easily read by humans, but few come with machine-readable metadata. To access the data to edit or organize it, you need a tool to convert the text into machine-readable data. That's where Docparser comes in. Instead of manually entering items into a spreadsheet or CRM, Docparser can automatically pull relevant data from a text document and send it to a spreadsheet, Salesforce, or other CRM and ERP systems. 
You can convert many document types like:
Invoices

Purchase and sales orders

Shipping and delivery orders

Form-based contracts

HR and admin documents

Product catalogs

Bank and credit card statements

Fillable PDF forms

Word documents

And other document types
For example, let's say your business receives thousands of invoices weekly. If you want to enter invoice data into a spreadsheet, you have two options: manual or automatic. Manual can take dozens of hours of labor, whereas automatic data extraction and entry can take only a few minutes. Docparser, and tools like it, save you the agony of manual data entry so your business can focus on higher-level tasks. 
Save Time with a Data Extraction Tool
Data extraction is the process of extracting data from an existing database or different sources, such as a spreadsheet or text file. Many businesses can use a data extraction tool to extract data from shipping and delivery orders, form-based contracts, bank statements, and more. 
Data extraction tools help businesses move data between different systems for analysis or reporting. If you need to extract data from a document or database for any reason, consider using one of the many data extracting software available to make this process easier. 
Extract Data from Documents in Minutes
Struggling with manual data entry? Capture data with Docparser to save time and money.