We live in a time of disruption, where businesses need to adapt quickly to new changes.
Traditional supply chain management can no longer keep up with increasing demand levels. The key to gaining a competitive edge lies in the adoption of automation technologies.
In this article, you're going to learn why supply chain automation has become mandatory and how data capture automation can help streamline your processes, save money, and help your business be more competitive.
Automate Supply Chain Data Entry
Try it free. No credit card required.
What Is Supply Chain Automation?
A supply chain encompasses the entire process of producing and selling goods – from procurement of raw material to manufacturing, storage, distribution, delivery, and recovery. Optimizing your supply chain to be as efficient as possible is essential to be competitive.
Supply chain automation refers to the use of modern technologies which automate traditionally manual tasks to streamline workflows and increase efficiency. These technologies include:
Warehouse robotics

Internet of Things

Artificial Intelligence

Machine learning

Predictive analytics

Digital process automation

Optical Character Recognition

Data entry automation

Etc.
More than a document trend, automation is a game-changer and a necessity. Companies that still fully rely on legacy processes will eventually find themselves unable to compete in a fast-changing world.
Legacy Processes with No Automation Are Outdated and Costly
The traditional supply chain follows a linear trajectory from suppliers to end consumers and relies on processes performed on-premise like documentation, stock, inventory tracking, tracking, and authentication of goods, etc.
However, the methods that guaranteed past success aren't as effective today and will become completely outdated in the future. The world has already shifted to a demand-driven paradigm where customers order more frequently and expect fast delivery with access to real-time data.
Legacy processes simply can't keep up with high demand levels. Moreover, they are costly and error-prone. Issues, like lost or delayed goods, can cause your customers to take their business to a competitor.
That is why sticking with legacy processes can impede your business growth. More and more companies are adapting to this reality. A study by Raconteur found that 41% of supply chain professionals have acquired or plan to acquire a supply chain
within 12 months.
Why Automating Supply Chain Processes Can Help Your Company Scale While Saving Money
Automation of data-related processes can not only increase the efficiency of your supply chain and reduce costs but help your business scale as well. Here is how:
Automate manual tasks.

Processing documents is one of the most time-hungry tasks in supply chains. Even worse, it can create bottlenecks. By automating manual tasks, you save a huge amount of time and money while making your supply chain much smoother. Plus, employees can focus on more productive tasks like prospecting and building relationships with customers.

Visibility and transparency.

Visibility allows employees across different departments and locations to remain on the same page to avoid order and delivery errors.

Likewise, shipping automation allows for greater transparency, meaning customers can follow the progress of their orders with up-to-date information.

Accurate and actionable data

. The interconnectivity of automated data helps break down data silos and ensure fast access to reliable data. Leaders can promptly make informed decisions – like demand-planning – backed by reliable data and generate dynamic reports that are easy to share.

Better and faster customer service.

Automation helps you ensure fast delivery times with competitive fees and up-to-date order information. Customers are more demanding than before, so meeting – and even exceeding – their expectations is key to thrive in your market.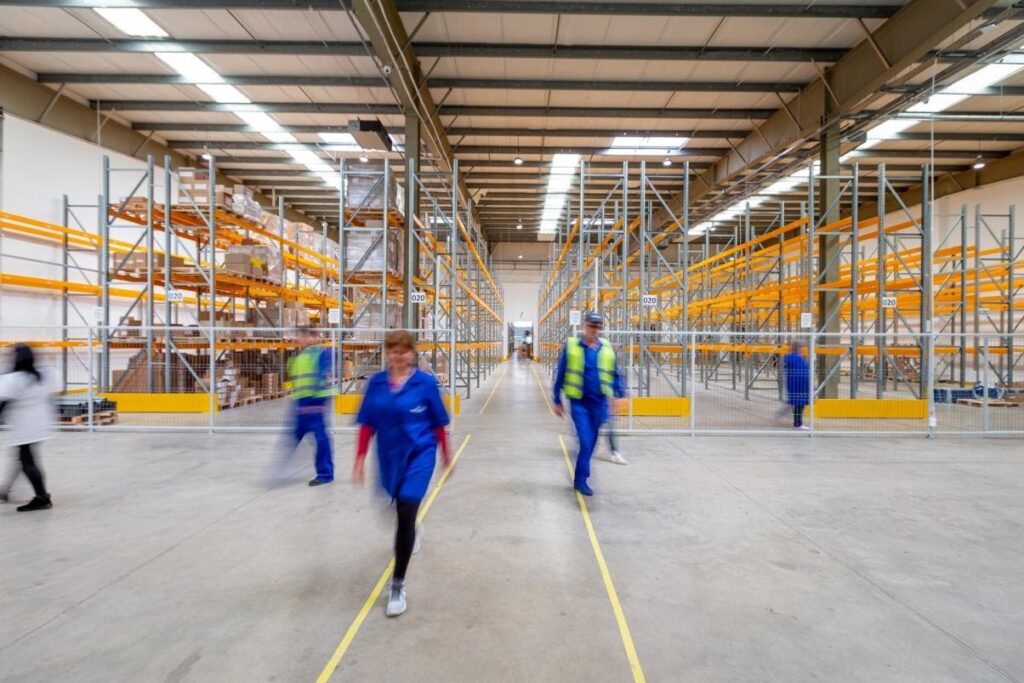 The advantages of automation in supply chains are now clear. But what does automation entail exactly? Well, let's take a look at some of the most impactful types of automation.
Types of Supply Chain Automation
Automation comes in many forms. Below are some of the most widely adopted automation technologies:
1. Data capture automation
In a time where businesses need to save as much money as they can to improve their bottom line, data automation can make a huge difference.
Data entry is one of the most time-consuming and error-prone processes in the entire supply chain, as countless documents need to be processed daily: invoices, inventory lists, purchase and sales orders, shipping notes, bills of lading, etc. On top of that, not only is there a limit to how fast employees can enter data manually, their ability to stay focused and productive will inevitably drop the longer they keep examining documents and inputting data.
Thankfully, data capture automation can extract information from digital or scanned documents using Optical Character Recognition (OCR) and other similar technologies. This process takes only moments and can be repeated with as many documents as you have.
Automate Data Capture with Docparser
No credit card required. Try it free.
2. Warehouse automation
Companies are investing in warehouse robotics (55% of them to be precise) due to the many benefits they confer like increased productivity and order accuracy. They also reduce worker injuries caused by accidents or fatigue as robots take care of the literal heavy lifting.
Warehouse automation includes a variety of machines such as collaborative robots, smart forklifts, automated storage & retrieval systems (AS/RS), driverless vehicles, automated sortation systems, etc.
3. Internet of Things (IoT)
IoT devices can monitor stored goods, report on their location and condition, and share data. Supply chain managers use them to reduce paperwork and tracking the movements of goods. They are also particularly useful for tracking goods that are sensitive to temperature or humidity, which is important in the food and retail industries.
IoT devices require wireless networks (WiFi, Bluetooth) and trained staff to work properly, but the potential ROI (optimizing inventories, reducing waste) is well worth the investment.
4. Predictive analytics
Legacy supply chain management is typically reactive, waiting for customer requests, whereas modern supply chain management adopts a proactive approach. Predictive analytics plays a part in this by identifying future trends via data analysis. This increasingly popular automation technology has a wide range of uses from demand forecast to pricing strategy and inventory management.
The Benefits of Automating Supply Chain Data Capture
Did you know that businesses lose over $600 billion each year due to data entry errors in procurement, supply chain, and other areas?
This inefficiency can be resolved in large part with data capture automation. Specifically, it allows you to:
Streamline the data capture process

. Automation makes supply chain processes smoother while increasing data accuracy, thus preventing cases of invoicing backlogs and order errors. Furthermore, this increased processing capacity will allow you to take on more business.

Save money

. Automation shaves off hundreds of man-hours spent on entering and validating data. It also minimizes the likelihood of errors along with the resulting financial losses and the cost of fixing said errors.

Reduce human error.

As your business grows, so does the amount of data to process, which inevitably leads to more errors and more costs. Even the best employees are bound to make mistakes eventually. When set up correctly, automation minimizes human error and maximizes order accuracy, which improves customer satisfaction and retention.

Get easier access to data.

Sharing paper documents requires you to scan them, fax them or, in some cases, have someone go to another location to deliver them. But thanks to the digitization of documents, sharing data becomes extremely easy, saving a lot of time and effort for everyone involved.
The other great thing about this type of supply chain automation is that it's the easiest and quickest to implement.
Try it free. No credit card required.
How to Automate Data Capture with Docparser
Docparser uses OCR, advanced pattern recognition, and anchor keywords to recognize and extract data. It pulls data from documents and moves it automatically where it needs to go. Docparser works not only with invoices but virtually any structured document, like:
Work orders

Shipping notes

Inventory lists

Sales orders

Etc.
To use Docparser, all you need to do is to sign up for a free account. You don't have to install it since it's accessible at all times from your favorite web browser.
Once you create your account, using Docparser is a straightforward 3-step process:
You can upload your document directly to Docparser, connect it to your preferred cloud storage platform (Dropbox, Google Drive, etc.), or simply send an email with attachments.
Define your parsing rules.
Docparser follows simple yet accurate rules to identify data fields and extract data like invoice numbers, dates, amounts, etc. You can choose standard rules that recognize the most common document fields (date, invoice number, values), or you can create custom rules for your specific needs using column separators and table filters.
Creating these parsing rules is rather intuitive and requires no coding knowledge at all. Once set, Docparser will pull your data from any number of documents at once.
Download or export your data to your desired location.
All that's left to do is to download your data to an Excel, CSV, JSON, or XML file. Alternatively, you can send the parsed data almost anywhere online with a native integration or plugging into an integration platform like:
Zapier

Power Automate

Claris Connect

Workato

Etc.
We have plenty of resources that teach you how to use Docparser to the fullest. And in case you need assistance, our support team is available and will promptly address your requests.
Automate Supply Chain Data Entry with Docparser
Try it free. No credit card required.
What Docparser Customers Have to Say
To get a better idea of the results your business can achieve with Docparser, let's review what some of our customers have to say. Take Wholesale Consulting Group for example; this company used to struggle with a constant stream of incoming documents like sales orders. The data entry process was described as tedious, error-prone, and costly. But here's what changed after they started using Docparser:
"By leveraging document parsing technology such as Docparser, our customers see an instant increase in productivity and cost savings. Our recent customer STAXS ® achieved significant time savings by automatically processing sales orders which they receive in form of PDF documents. The sales department at STAXS ® aims at processing at least 70% of all incoming orders in a fully automated manner without the need for human interaction. By using Docparser in combination with the Dovetail data integration platform, this goal was already reached within a few weeks."
– Wholesale Consulting Group together with STAXS ®
Other customers have reported similar benefits as well:
"Docparser has been invaluable and has reduced the processing time of some orders from many hours down to minutes. By removing rekeying we have also increased order accuracy and reduced errors. There are other extraction tools available online, but what made Docparser stand out to us was the wide range of extraction rules available to cope with even the most complicated PDF formats."
– Chris Andersen, Sistema
"Unlike other systems we looked at, Docparser gives up flexibility and control over how the data is being extracted. We set our parser to extract the information we need from each file and automatically connect it to a Google Spreadsheet shared by our management teams. This allows all the managers to see our current workflow in real-time and make appropriate changes to schedules, inventory, etc. Our turnaround time is shorter, and customers are even happier than they were before."
– Alex, Mingo
Final Thoughts
To be competitive in the current world, all processes within the supply chain must be streamlined for maximum efficiency. Automating supply chain data capture will save you a tremendous amount of time and money while allowing you to take on more business and better satisfy customers. 
Try it free. No credit card required.